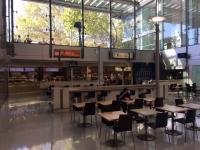 ---

Negotiable

---

email this to me
printable version

---
We have a fantastic opportunity for someone to set up an espresso bar at the base of 201 Elizabeth Street, on the corner of Park St.

Service this huge highrise building with great coffee and you'll be rewarded.

Part of a food court and next to a very busy Australia Post.

We are looking for an experienced operator.

Call Mark on 0414 753111 or Tom on 0411 603767 for more info.